O Brexit fez reviver uma série de planos para a integração da defesa da UE, que há muito se consideravam impossíveis por causa da oposição do Reino Unido.
Has Brexit catalysed EU defence integration?
Brexit has revived a series of plans for EU defence integration that had long been considered impossible because of the UK's opposition. Could Brexit act as a catalyst for the creation of the EU army that British Eurosceptics have long feared? Open Europe's Georgia Bachti argues that we might be closer to that prospect, but it remains distant.
At the biannual Franco-German joint ministerial meeting held in Paris last Thursday, German Chancellor Angela Merkel and French President Emmanuel Macron announced their intention to develop joint defence projects, such as a new generation of European fighter jets. This move, which Macron called a "far-reaching revolution", comes in the context of a renewed impetus for European defence integration reflected in a series of initiatives adopted by the EU over the past months. Brexit has made possible a degree of defence cooperation in Europe that was considered taboo under the threat of a veto from the UK, a state traditionally sceptical of the possibility of an EU army. However, despite the ambitious rhetoric surrounding EU defence, a closer look throws into question the credibility of the project and the unity of the Franco-German motor supposedly driving it.
The EU has responded to Britain's decision to leave the bloc with a demonstration of unprecedented unity, presenting a common front even in the traditionally divisive area of defence integration. Over the past months, we have seen a number of initiatives for closer military cooperation in what could be interpreted as the first steps towards the creation of an EU army. European Commission President Jean-Claude Juncker said,
We have reached a point where progress is the only option. The only question is the speed… A European Security and Defence Union will help protect our Union, which is exactly what EU citizens expect.
A closer look below the surface, however, throws into question the credibility of the defence project and the unity of the Franco-German motor that is supposedly driving it.
Defence spending reveals a fractured EU
A recently-published report on the military spending of NATO Allies in the period 2010-2017 reveals a striking disparity in defence expenditures within the EU. The only NATO members in Europe that met the Alliance's 2% spending target in 2016 were the UK, Greece, Estonia, and Poland. Amid increasing political pressure from the Trump administration, NATO Secretary General Jens Stoltenberg announced that non-US military expenditures would increase by 4.3% in 2017, in what he called "a clear demonstration that our alliance stands united in the face of any possible aggression." This increase will add Romania to the list of countries meeting their commitments in 2017, with Latvia and Lithuania expected to join in 2018.
The biggest European powers have so far been less responsive to American pressure, with Germany and France remaining unwilling to expedite their plan of meeting the spending target by 2025. Germany's spending stands currently at 1.2% and France's at 1.78% (including expenditure for its nuclear arsenal). The French government recently announced a further decrease in military spending in the framework of budget tightening measures adopted to meet the Eurozone's deficit target. The rest of the EU member-states, most of which are in NATO, have decreased their spending by almost 12% in real terms over the last decade, moving further away from the NATO guidelines.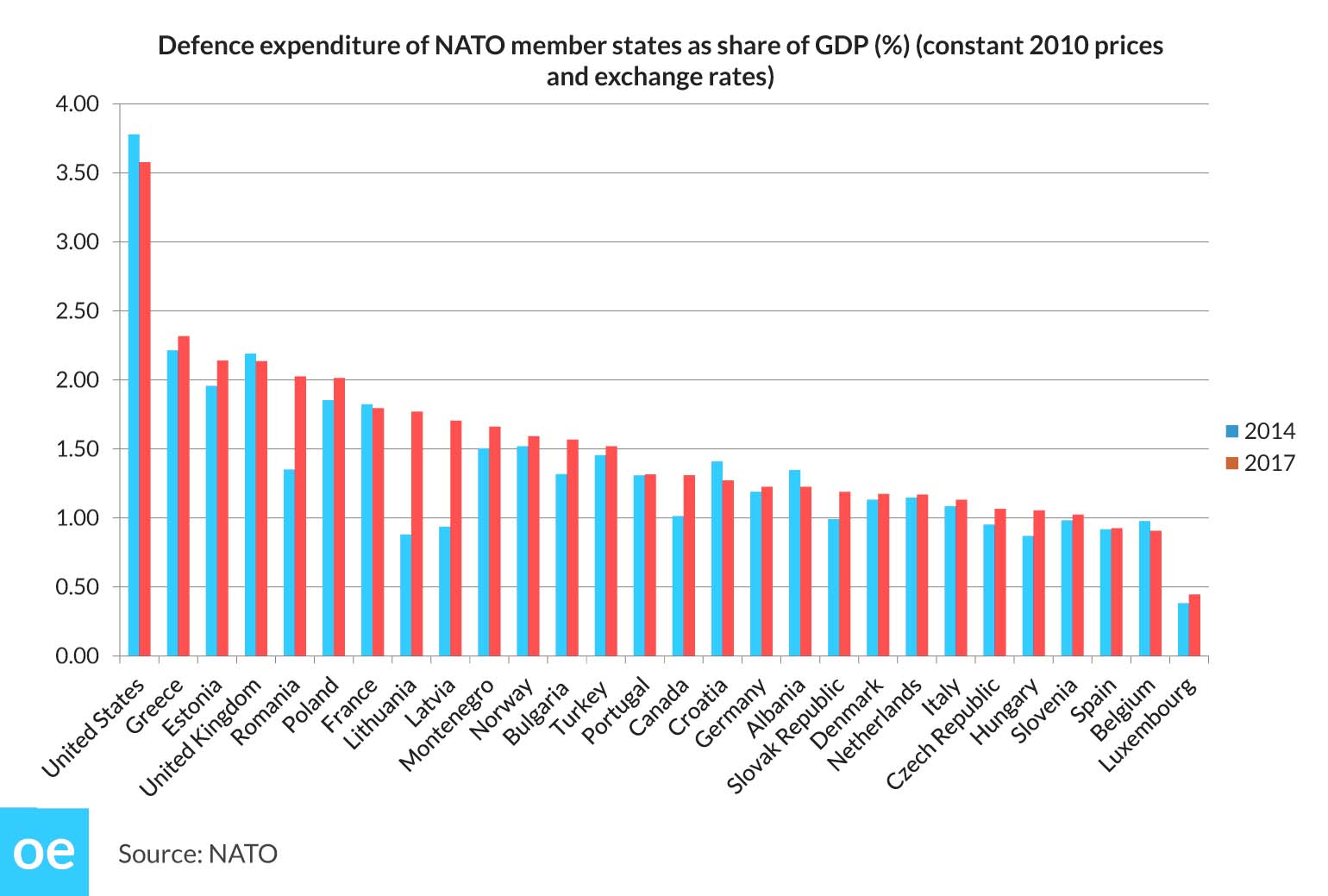 Defence is still driven by national interests, not European solidarity
This imbalance in defence expenditures within the EU suggests that national priorities are not aligned, and indeed that decision-making is driven by those national interests rather than common European considerations.
For some states, national interests are determined by threat perception: the East European states, the Baltics and Poland, spend more on defence because they feel they are most exposed to potential Russian aggression, while Greece is engaged in long-standing border disputes with Turkey. Similarly, it was Eastern European states that immediately responded to President Trump's initial refusal to commit the US to collective security under NATO Article 5 by pledging to increase their expenditures to satisfy his calls. For them, a robust defence system is an existential issue inextricably tied to their security.
For states under no perceived immediate threat, however, defence is more about politics. What matters to France is the protection of its sphere of influence in Francophone Africa and the preservation of its nuclear arsenal. Neither of these priorities would be directly affected by Trump's change of course, which explains why France did not respond to his pressure. For Germany, Trump's stance represented an opportunity to boost the country's – and the Chancellor's – image. It was in that context that Chancellor Angela Merkel proclaimed, "The era in which we could fully rely on others is over… We Europeans must really take our destiny into our own hands." In saying that, she had a double audience: on the one hand, the European community recognised a leader who appeared willing to stand up for them in the face of perceived American retreat and British withdrawal; on the other, the German electorate saw a powerful and reliable Chancellor – just in time for the September election.
What does the 'EU army' currently look like?
In the absence of the British veto, the latest European Council adopted a timetable for the establishment of a Permanent Structured Cooperation (PESCO). Often described as a defence Eurozone, PESCO will allow closer cooperation between member-states with higher capabilities and common foreign policy goals. In the long term, it is conceivable that PESCO will evolve into a structure resembling an EU army, an issue that had been a trope of Eurosceptic concern in the UK for decades. However, a closer look suggests that this remains a highly improbable prospect, not least because the "Franco-German motor" will have to reconcile their diverging foreign policy doctrines.
When it comes to PESCO, this issue is reflected in two crucial points:
What are these 'common foreign policy goals'? On a practical level, the kind of projects PESCO would entail is a matter of contestation. France is more outward-looking and interested in combat operations abroad. Germany, a traditionally reluctant military power given historical sensitivities, has suggested projects such as a common European medical evacuation facility or drone technology. Indeed, at their joint press conference Macron and Merkel made only vague references to these projects without making concrete announcements. On a strategic level, earlier Open Europe research suggests that national interests often diverge on critical matters because of historical experiences and geopolitical considerations, as became evident in the debate on sanctions against Russia in the wake of the Ukraine conflict.
What does 'higher capabilities' mean? As is evident from the lack of detail provided after the ministerial meeting, there is no consensus on the entry criteria for PESCO. For Germany, PESCO participation should proceed on a voluntary basis. In Merkel's words, it is an initiative "open to everyone but not everyone needs to participate." On the contrary, France calls for strict criteria that would ensure PESCO participation is accompanied by generous pledges of financial and material support. As we have argued elsewhere, this would likely lead to the establishment of a 'defence core' following the rationale of a multi-speed Europe that has been discussed in the context of economic integration.
It becomes clear that France is primarily interested in projecting power abroad; Germany sees integration as an identity-building exercise to consolidate internal EU unity. These differences are more than mere technicalities: they are intrinsic to the nature of their statehood, reflecting long-standing foreign policy doctrines and deeply rooted attitudes to the European project, which may be difficult to recalibrate.
Instead of pursuing this strategically and institutionally confusing plan, the EU could move forward with the Commission's proposal to establish a European Defence Fund (EDF). Under the EDF, money from the common budget will be allocated for the first time to defence spending, specifically for R&D and joint procurement of defence technology and equipment. Instead of replicating military structures covered by NATO's collective security umbrella, this initiative has the potential to strengthen the EU's relationship with the Alliance. Indeed, NATO encourages this kind of multinational cooperation under the 'Smart Defence' initiative: "Acting together, nations can develop capabilities which they could not afford individually, for example by sharing the often considerable development costs of complex military capabilities, and achieving savings simply through economies of scale." Given the spending disparities discussed above, the EDF would distribute common defence costs in a manner more representative of the professed European solidarity that is so strikingly absent from this area.
Por: Georgia Bachti
Fonte: Openeurope, em 17 de Julho de 2017